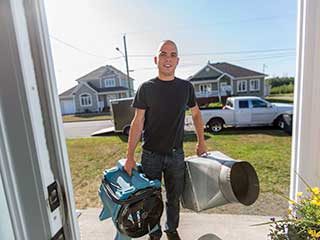 For Clearing Your Air Ducts!
It may go without saying, but if you want to get the air ducts of your home or business cleaned out, calling the professionals is for the best. Dirty air ducts can cause issues with energy spending and health as well. They slow down the flow of air in the building, including the heat or air conditioning, which means it takes a longer run time to keep the building at a stable temperature. This drives up costs and makes your energy bill look ghastly. The dust and other substances that clog up the ducts will also pollute the air and will lower the quality drastically. This can mean trouble for those with breathing issues like asthma, aggravated allergies, and can even have negative effects on children and the elderly. Even with someone who's perfectly healthy, it will cause fatigue. It's important that the built-up materials in the ducts are cleaned out carefully to ensure there's no further air pollution, which is why hiring experts is ideal!
Cleaning Dryer Vents!
A clogged dryer vent is another source of energy waste, because it causes your dryer to need to run longer so it can fully dry your clothes. On top of this, your clothes will likely get beaten up from the longer run cycle and a lot of damage can occur to them over time. The most concerning issue, however, is that dust stuck in these vents is a huge fire risk. The hot air used to dry can make the dust burn over time and may eventually spark a full-fledged fire. For safety's sake, getting your vents periodically cleared out is important.
Cleaning Kitchen Exhaust Hoods!
Any business that has a kitchen is likely to also have an exhaust hood, and these can get very dirty over time. Smoke, food particles, grease, all of these get stuck up in the hood over time when it goes without regular cleanings. Unfortunately, it's also a fire risk. The grease in particular can cause a nasty fire that's a threat to the building and those inside it, so having it cleaned regularly is for the best.