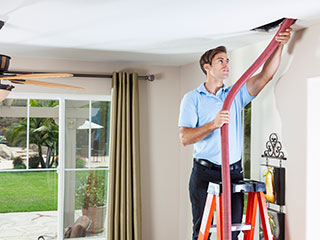 Why Should You Clean Your Ducts?
There are two main reasons for cleaning your air ducts regularly: air quality and energy costs. You might wonder what some dust has to do with either of those things! The problem is that it isn't simply a little dirt, it can be pounds of it if not cleared out over the years. As air is sucked in for heating and air conditioning in your home, substances are also brought in. They get stuck and accumulate, contaminating the air as it goes through, which is then spread throughout your home.
What Does This Mean?
People with asthma or other breathing conditions are the most at risk when it comes to low quality air, and their health can deteriorate because of it. The elderly and children are also quite susceptible to these factors. Allergy sufferers will find that their symptoms are all the more aggravated and irritated, and even those with no usual troubles will be fatigued.
As for your energy bill, forcing air through clogged ducts is no easy task! The harder it is the more energy must be used to get enough air for your needs. This struggle can take a toll on the components over time, such as your furnace, and cause damage that will have to be repaired.
What Can We Do For You?
Our technicians will use the best tools available to clean your air ducts quickly, without sacrificing safety! The process of dislodging the dirt build-up can cause it to fall into your home more heavily and cross-contaminate the air. That's why we're careful to immediately vacuum it up so we can dispose of it safely! You won't have to worry about quality of your house's air any longer with our professional assistance.
Call Us Today!
You'd expect the air in your home to be better than what's outside, so make sure that it is! Contact Air Duct Cleaning Rancho Santa Fe now, and let us get those ducts spotless.